HOME > PRODUCTS > ELEVATOR ELECTRICAL DEVICE > Elevator Cable
---
TVVBG Flat Elevator Cable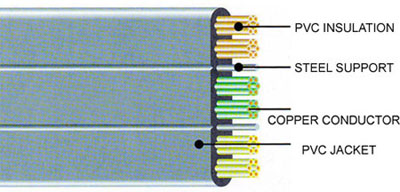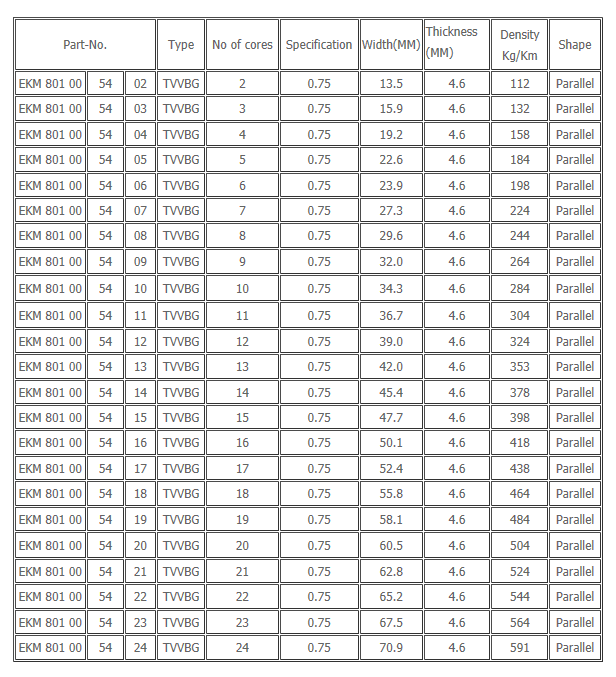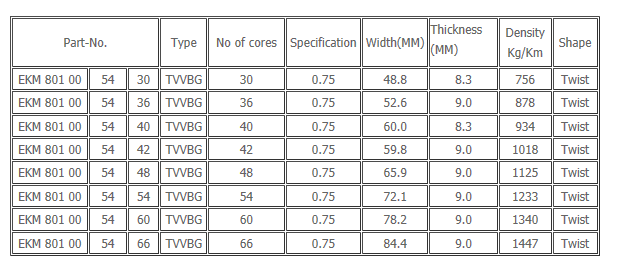 Technical data:
Rated voltage: 300/500V
Test voltage: 2500V
Minimum bending radius: 0.3m≤L≤0.6M
Burning vertically test: GB/T1 8380.1-2001, IEC60332-1:1993 test passed

Used under the nomal conditions.the temperature of conductor is lower then 70
Temperature range:-15 to +70
VVB (Parallel) free suspension length must not exceed 35 meters,and the lift speed 1.6m/s.
TVVB(interwist) free suspension length must not exceed 80 meters, and the life speed must not exceed 4m/s.
Standards:
GB5023.6, IEC60227-6, EN50214
Applications:
As control and signal cable for elevator as well as moving nachine parts, its bending radius is smaller compared with round cables due to the closely packed shielded cores or bundles, It can be installed in dry and damp rooms.
Structure:
The outer sheath is extensively resistant to oil and cooling liquid,
Conductor: Fine strands of bare copper wire, acc. to VDE 0295,class 5
Insulation: special PVC
Colour: yellow, white, orange with black number with white digital coding
Bearing: steel rope
Outer Sheath: flexible PVC , cold resistance, flame resistance
Colour: Grey(RAL 7001)
Details
1.Payment: We accept 100% TT, Western Union
2.Shipping: Delivered By Express Courier ( DHL,FEDEX,EMS,etc.),By Air or By Sea.
3.Package: Standard Export Carton or Wood box.
4.Delivery: The delivery time 3-7 working days after get payment.
5.Guarantee: Our company offers 1 year guarantee for all parts under normal use.
You are more than welcomed to consult elevator& escalator products from our company. Any question please feel free to discuss with us. We have been focusing on offering our clients with spare parts for more than 8 years. We have our company's philosophy as Service-Quality-Communication-Friendship.